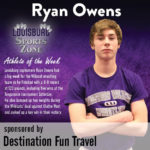 Week 3 Athlete of the Week: Ryan Owens
Here is the Louisburg Sports Zone Athlete of the Week for week three of the winter sports season, sponsored by Destination Fun Travel.
RYAN OWENS, WRESTLING, SOPHOMORE
Louisburg sophomore Ryan Owens had a big week for the Wildcat wrestling team as he finished with a 6-0 record at 120 pounds, including five wins at the Tonganoxie tournament Saturday. He also bumped up two weights during the Wildcats' dual against Olathe West and picked up a key win in their victory. 
The athlete of the week award is announced every Wednesday morning during the winter season and the winner is selected by Louisburg Sports Zone with the help of nominations from coaches.
Previous winners:
Week 1: Alyse Moore
Week 2: Noah Hill