Wildcats overcome slow start to rout Turner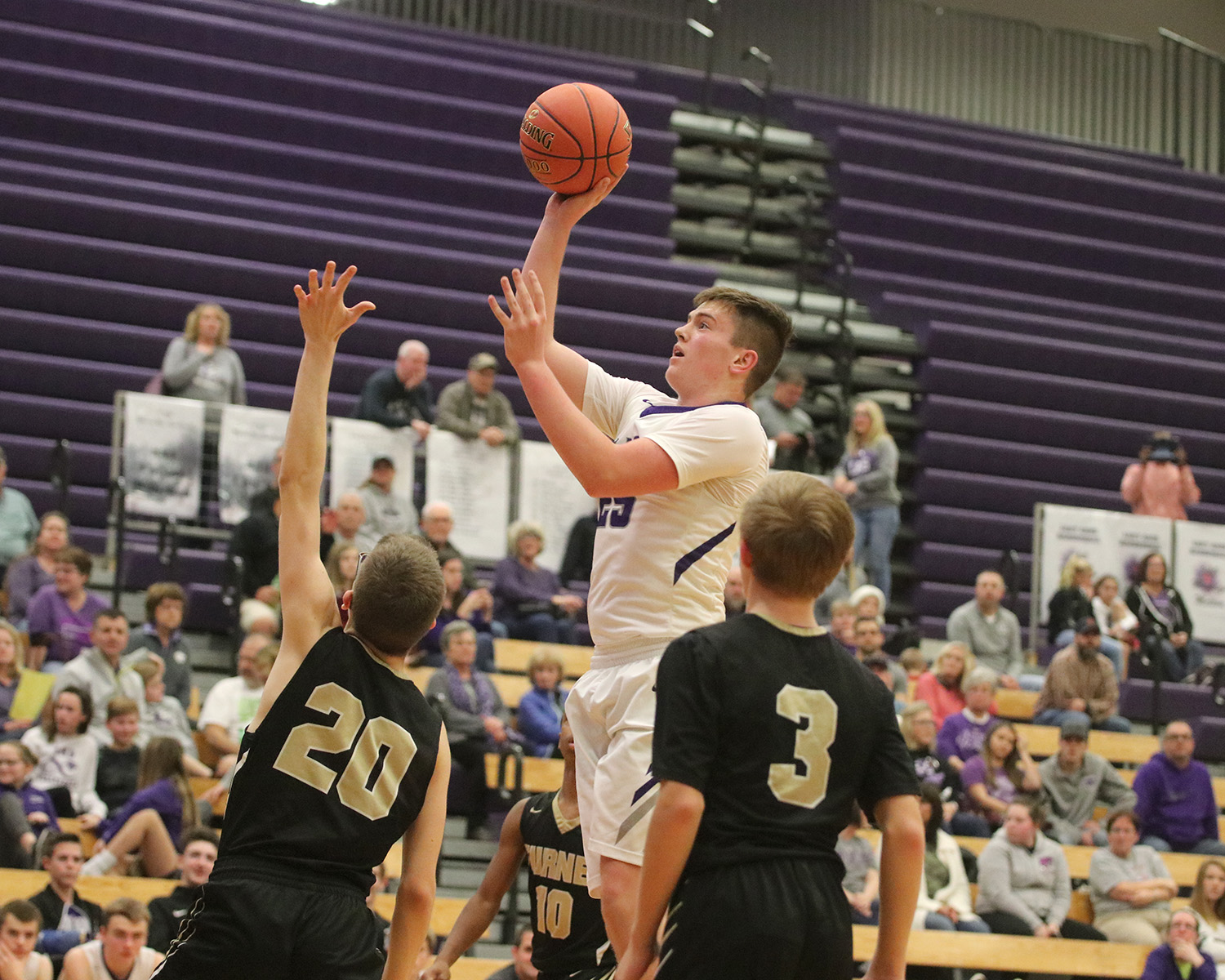 Andy Brown / Louisburg Sports Zone
Louisburg senior Dylan DeShazer puts up a shot in the lane Tuesday against Turner at Louisburg High School. DeShazer was one of five Wildcats in double figures and ended with 11 points.
It wasn't the start Louisburg boys basketball coach Ty Pfannenstiel had hoped for Tuesday in the Wildcats' home game against Turner.
The Wildcats turned the ball over 12 times in the first half, and although they had the lead, it wasn't what Pfannenstiel was hoping for.
Louisburg's third quarter was exactly what it was looking for.
The Wildcats scored 32 points in the third quarter and they were able to pull away from Turner for an 80-48 victory in their final game before the holiday break.
"I think we started off slow, but credit Turner a little bit and they were able to get some turnovers," Pfannenstiel said. "We were really sloppy with the ball, especially early. We had 12 turnovers in the first half and that is just too many. That was our point of emphasis at halftime was to make the simple plays and try not to do too much.The second half we only had three turnovers and that was a big difference."
Turner had a two-point lead midway through the first quarter and the Wildcats couldn't seem to find a rhythm offensively. So Pfannenstiel went to his bench and put in five reserves in senior Noah Hill, junior Michael Waldron, sophomores Ben Guetterman, Andy Hupp and Connor Koesser.
Those players gave the Wildcats a lift off the bench as they went on a 9-1 run to end the quarter and give Louisburg a 17-11 lead.
"Those guys came in and gave us a spark there," Pfannenstiel said. "You know when those guys get their opportunity, you know they are going to play hard. That kind of sent a message to those older guys and I am proud of that younger group that came in. Noah was in there with them, and he had been out with an illness and that is why he came off the bench, but it was good to have him lead that group. They were just doing the little things right and that is what we have to do as a group."
The message was heard loud and clear as the Wildcats opened the second quarter on an 11-2 run and eventually built a 37-20 lead at halftime.
Louisburg's offense caught fire in the third quarter as it racked up 32 points. Senior Kohl Vogel got things going with three consecutive steals that led two baskets to open the second half and the Wildcats were off and running.
The Wildcats all but sealed the win as the buzzer sounded in the third quarter when sophomore Weston Guetterman sank a 3-pointer from three or four steps in front of the half-court line. Louisburg led 69-38 and forced a running clock the rest of the way.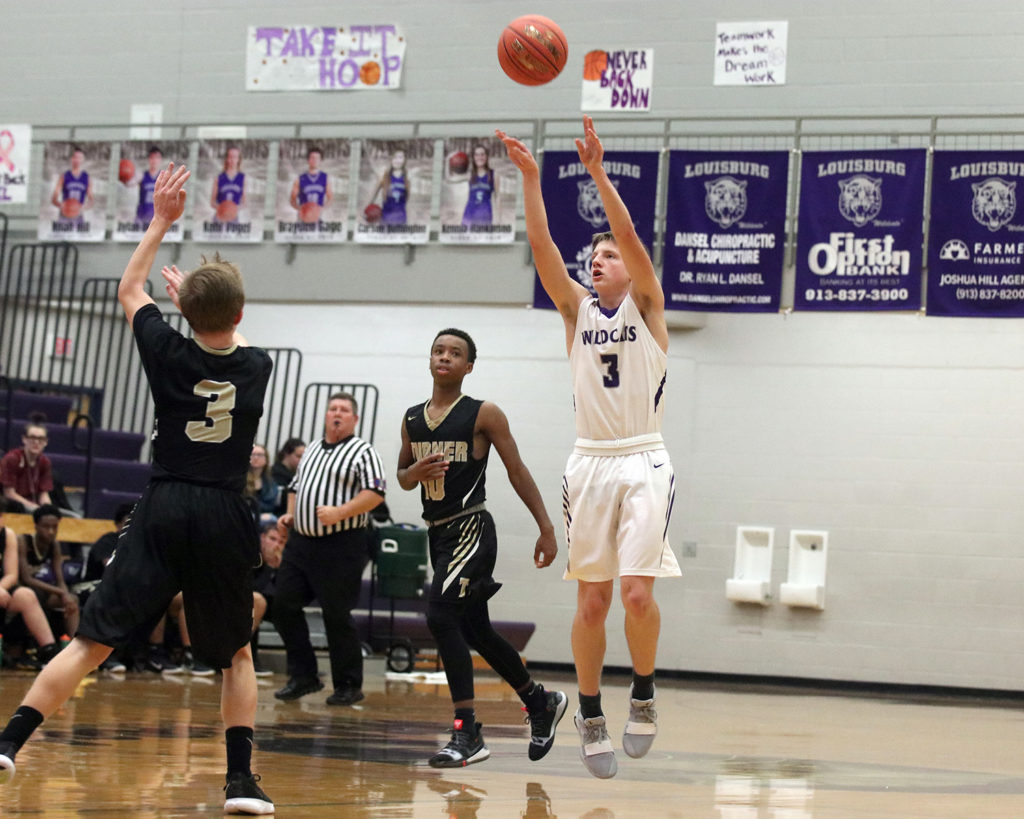 "I think we only missed three shots in that third quarter and we were able to get some things going there," Pfannenstiel said. "It really started on the defensive end and that sparked us offensively. We preach that every day that our defense has to be a constant every time. There will be times where we don't shoot the ball well and we have to be good on the defensive end every time."
Louisburg had five players score in double figures and Vogel and Hill led the way with 14 points each. Vogel also had five rebounds, five assists and three steals, while Hill had six rebounds.
Junior Madden Rutherford finished with 12 points and a team-high seven rebounds, while senior Dylan DeShazer and Weston Guetterman scored 11 and 10 points, respectively. Senior Brayden Gage added eight points, six rebounds and five assists.
The Wildcats have already doubled their win total from a season ago as they currently have a 4-2 record and have gotten off to a good start. However, Louisburg realizes there will be plenty more tests in the weeks to come.
"Every game has been a good game," Pfannenstiel said. "Even in our two losses, we have been right there. I think our kids are playing confident, unselfish and team basketball. We are doing the right things on both ends of the floor and now we have a stretch to work and get better before we get into the brunt of the Frontier League. We come back from break and we play Eudora and Bonner Springs right away and both are really, really good teams. We have to have ourselves ready and keep moving forward."
LOU               17           20           32           11– 80
TUR               11           9             18           10– 48
LOUISBURG (4-2): Kohl Vogel 6-10 0-2 14; Noah Hill 7-10 0-0 14; Madden Rutherford 5-8 2-4 12; Dylan DeShazer 4-10 2-3 11; Weston Guetterman 4-6 0-0 10; Brayden Gage 3-4 1-2 8; Michael Waldron 3-5 0-0 7; Konnor Vohs 1-1 0-0 2; Ben Guetterman 1-3 0-0 2. Totals: 34-59 5-11 80. 3-point field goals: 7, (Vogel 2, W. Guetterman 2, Gage, Waldron, DeShazer)