Dennis leaves lasting legacy in Louisburg, LHS athletics
Damon Dennis, and his wife Karla, pose for quick picture during a timeout at a Louisburg High School basketball game Dennis was announcing. Dennis, who is better known as Doc D, is handing over his business at Louisburg Chiropractic Office to Dr. Jacob Polzin and is stepping away as the LHS team doctor after 28 years of service. His last day at the office is tomorrow (Saturday).
Almost every day of the week, if you were looking for Damon Dennis, he could be found at his office on 11 S. Broadway St., helping treat those pesky aches and pains, taking X-rays, or mending those beaten up athletes after a game.
Doc D – as he his affectionately known – opened Louisburg Chiropractic Office 28 years ago and has served as the Louisburg High School athletic team doctor for almost that same amount of time.
Dennis has seen it all. The walls in his office are lined with mementos from his years of service to both the community and the high school.
He has taped thousands of ankles, seen even more patients and has touched many lives during his time in Louisburg. That is why this week is one of the more emotional times in his life.
On Saturday, he will officially leave Louisburg Chiropractic Office and hand the reins over to Dr. Jake Polzin. Add to that, Dennis is also stepping away as LHS' team doctor and will leave an absence on the sidelines and behind the mic that many in Louisburg have come to know.
"My decision to step down and sell the practice has turned out to be the hardest thing I have ever done," Dennis said. "I have poured everything I have into my job and community. It has become my entire existence. I was taught from a young age to serve others and your community. I feel like the pressures I have put on myself have become unhealthy. I have put about 40 years work in to 28 and feel like there is never going to be a good time to make such a huge life change.
"That being said, I feel like I need to make changes while I am still able to do the things that will be best for my family. Dr. Polzin came along and I think he will carry on the work at the office wonderfully. We are a lot alike in many ways. I could not have found anyone better to replace me."
For many, Dennis has been a big part of people's lives, especially in the athletic arena. He has served as the LHS team doctor since 1992 and has treated many athletes in those 28 years.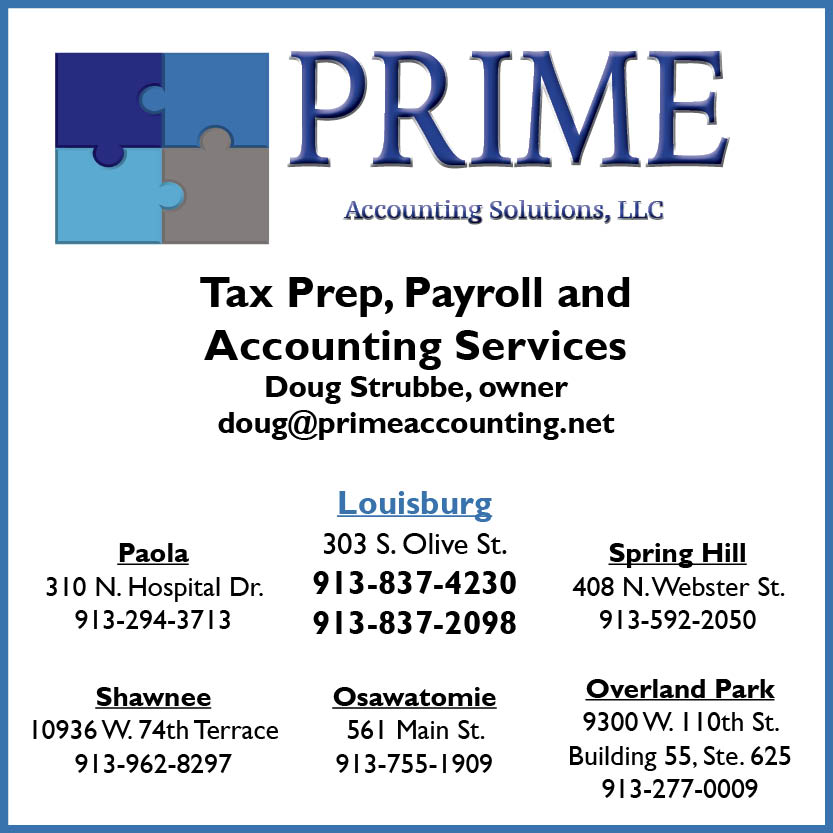 During the school year, Dennis would leave his place of business every day after 3 to go to the high school to tape up athletes from all different sports and made sure they were all ready to go for practice. After that was over, he would rush back to his office to finish the day treating his patients.
It would be hectic life for some, but it is one that he has treasured for the last nearly three decades.
"My time in practice has been a blessing," Dennis said. "I truly care about all of the patients and people in the community that I have been involved with. I have tried to be a positive impact on the town through my involvement in different organizations. As with any business, there are bumps in the road. I genuinely appreciate everyone who has had a positive impact on me through these years.
"I have poured my heart and soul in to every aspect of my business and involvement in the community, sometimes at the sacrifice of my wife, Karla. I am eternally grateful for her patience and love. Part of the reason why I am handing over the reigns is that I have a lot of making up for time to do."
Dennis and his family have made a lot of sacrifices during his time and many of the Wildcat coaches – both former and present – appreciate what he has done for them and their players.
"As far as what he has meant to the community, it is immeasurable," longtime former coach Gary Griffin said. "He came in the first year and made himself available to all the coaches and was there for whatever the kids needed from the medical stuff, to a new pair of shoes, or money to go to a team dinner. He was even there to lend an ear to a kid that was having issues from girlfriends, teacher issues or problems at home.
"For me personally, he was a cheerleader when times were not good, he was an advocate for kids when I didn't always know what was going on behind the scenes. I trusted Doc like he was a member of the coaching staff. I told him a lot of things in confidence so I could get his advice knowing it would not go any further. As far as the community goes, he is a pillar and he is involved in everything and is held in high regards by most. It is really hard for Doc to tell anyone no, so most of his days are longer than just his office hours. Doc is going to be missed in so many ways. He is a very humble man and he is very deserving of slowing down and enjoying the fruits of his labor."
A Small Beginning
Back in June of 1992 is when Dennis began to plant his roots in the town he would begin to call home.
Dennis purchased the small satellite office from Dr. Larry Fulk, who at the time also had a practice in Paola. Dennis was less than a year out of school and was eager to get involved in the Louisburg community.
Two months later, Dennis reached out to then Louisburg High School administrator Doug Chisam and asked if he could serve as the team's doctor – free of charge. Since August of 1992, Louisburg High School would not be the same.
Dennis made trips over to the high school for treatment and would also follow many of the team's to their games after work was over. It was a life that would go on to create many memories.
"Jim Knox, Don Meek and Doug Chisam were all very supportive and I am forever in their debt," Dennis said. "I started out just going to all games, home and away, and every sport that I could. At that time I was in the office from 6 am to 7 pm and then off to games 3-4 nights a week. The things I have always enjoyed about being the team doctor was the kids and the coaches. High school athletes have not changed since day one. They want someone who cares about and shows interest in what they are doing. I am still close with a lot of the students who have come through the high school and will continue to be.
"My role evolved over the years. I began doing all the taping before practice and games, Impact testing, announcing basketball and other roles as the coaches requested. I enjoy helping others and that is how my role evolved in to so many other areas. Over the years, the coaches have included me and I will always be grateful to them for allowing me to be a part of the experience."
His role got even bigger when the new high school was built and Dennis was asked if he would like to announce basketball games. He certainly didn't mind having a mic in his hand and loved playing off the crowd and making sure the athletes felt a little extra special.
"We had a girls' tournament and Dave Tappan asked me if I would announce the game," Dennis said. "He thought it would be a nice touch to have an announcer. I am not sure he ever asked me to continue, I just did it. I had to be at games anyway and I like to talk, so it worked out. Dave never said to quit, so I just kept doing it.
"I really did enjoy that. I would try to throw in a little funny once and awhile just to see if people were listening. Dottie Cook had a birthday every game night for several years. Knowing the kids so well, it was fun to add their middle name or nickname at the game."
Tappan, who is currently the USD 416 assistant superintendent, worked as the LHS activities director and principal during many of Dennis' years in Louisburg and the two became quick friends.
With that, Tappan is well aware of Dennis' work ethic and commitment to Louisburg athletics. In fact, he has seen it firsthand.
"Most people know that Doc doesn't take vacations very often," Tappan said. "In fact, it usually takes a team of us to get him out of the office for more than a day. But in 2010, he and Karla scheduled a trip over Thanksgiving break to Chicago. Well, that was also the year of our run to the state football championship and there was no way he was going to miss it. In typical Doc D fashion, he lined things up to perfection. He takes a 5 a.m. flight from Chicago to Kansas City, has Karla drive him to the Legends off of I-70 and at about 6:30 I'm picking him up and we beat the team to Salina. When the bus finally rolls in, he looks at Coach (Gary) Griffin with a grin and says, 'What took you so long?' About four hours later we were celebrating a championship.
"The commitment that Doc D has demonstrated over the years to the students of Louisburg schools is second to none. From the football sidelines on a Friday night in the fall, to being behind the mic in the LHS gym during basketball season, Doc always supported the students, the coaches and the administration of USD 416. I am proud to call Damon Dennis my friend."
Beyond The Call of Duty
Running a business can be difficult enough, but when you have other responsibilities on top of all that, it can be stressful at times.
The coaches at Louisburg High School never got that when working with Doc D. Veteran and young coaches alike were amazed at the dedication he displayed.
"Doc D is one of the most honest and honorable men I have ever met," Louisburg soccer coach Kyle Conley said. "He has donated countless hours and years for helping Louisburg student athletes. He always went out of his way to help anyone and everyone. He wasn't always just helping players. He would always check in on the coaches as well – checking on their well-being, their teams, and their families.
"Doc always went out of his way to make someone feel important and special. He was NEVER too busy for anyone. He will be greatly missed and he is irreplaceable. Thank you Doc D for everything that you have done for my teams, my family and for myself. You are someone I am lucky enough to call a friend."
That dedication would not only be found after school in the evenings, but even before the sun came up as well.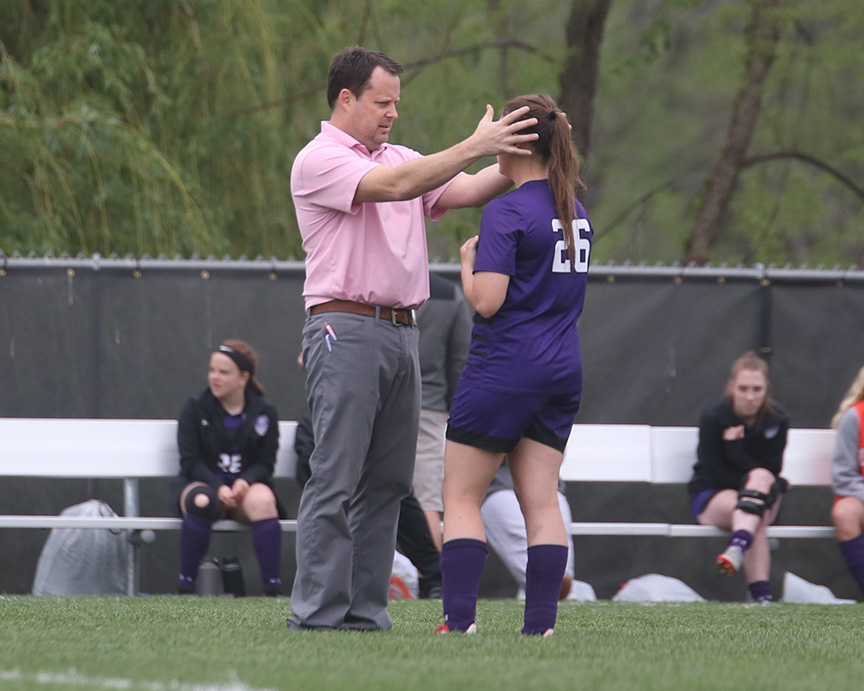 "Doc D will be greatly missed," Louisburg volleyball coach Jessica Compliment said. "He unselfishly devoted many hours to our athletes and was always a phone call or a text away. I can't count how many times he would meet myself and an athlete or two at the school at 5:30 a.m. prior to departure for a volleyball tournament. Not only was he a great role model and mentor for the athletes, but he served as a great mentor to a young coach for the past 14 years. He will be greatly missed by many."
However, where Dennis is most recognized was on the football sidelines. He did anything from tending to injured athletes, mentoring future trainers and handing out free food or candy to the student section before certain games.
It wasn't gone unnoticed as many around the school and community know what Doc D has meant to the district.
"If Louisburg had a Mt. Rushmore, Damon would definitely be up there," Louisburg graduate and longtime coach Jeff Lohse said. "Doc is one of the most selfless people that I know. He was always more than willing to help anyone out and never expected anything in return. I consider Doc to be a great friend of mine and this is definitely bittersweet. I wish him and Karla nothing but the best as they open up this new chapter in their lives. Damon will be missed but his legacy in Louisburg will live on forever."
Dennis always made sure to welcome the new coaches to the district and made them feel a part of the family and that was the case with boys basketball coach Ty Pfannenstiel when he came to the school three years ago.
"Doc D is the most selfless man I know," Pfannenstiel said. "What Doc gave to this school and community is unprecedented. He cared so much for all of our athletes, there's no way we are going to be able to replace what he brought to this school. I feel bad for whoever is going to come in and try to fill his shoes – he set the bar way too high."
Dennis has been on the sideline for many of Louisburg's greatest athletic achievements, including three state football appearances and has watched many athletes along the way achieve great individual accomplishments.
He knows that he has been blessed to be able to be a part of Wildcat athletics in one form or another the last 28 years.
"As for favorite memories, it is not always about the wins and losses," Dennis said. "The things I have most enjoyed is the time spent with athletes and coaches. The things that go on in the locker room, before and after games were the fun part. I have had a behind the scenes view of some pretty amazing people.
"Obviously the 2010 state football championship is at the top of the list. We had gone to the championship twice and come home in second on two occasions. It was a great group to be around and a great experience. If I had to choose a group of kids that really stand out the most, it would be the seniors my first year here (class of 1993). They welcomed me with open arms and made me feel like I was appreciated. I still speak to members of that class often and consider them friends. It was a really special group. I also loved seeing kids accomplish their dreams of success. Louisburg has had its share of champions and athletes that have gone on to do some amazing things."
In his last week at the office, Doc D has seen a lot of visitors that have come to thank him for everything he has done. Although Dennis won't be around as much as he used to, he wants people to know that this isn't a farewell – but more of a see you later.
"I want everyone to know how much I appreciate their kind words," Dennis said. "There has been talk of various activities surrounding my career change that have been proposed. While I genuinely appreciate this, I don't think I can handle the attention. My emotions have gotten the better of me and I am not sure that I can handle any celebrations publicly, unless everyone wants to see me cry.
"I am not going away. I just won't be at 11 South Broadway or at the high school every day. Thank you to everyone that has supported me as I have made every effort to support my community."
No, Doc – thank you…